Vietnamese surely love coffee just as much as tea. One of the fascinating things is that in the North, people have a different way to drink coffee with the South.
How does a Vietnamese drink coffee?

Vietnamese coffee has developed a style of its own with its own way of making, its additional variations and its own taste. Vietnam also has a philosophy to coffee: we drink it slowly. To clarify, just look at our one and an only coffee filter, in Vietnamese called "phin". You can't find this lovely and convenient "phin" anywhere else. The filter includes a cup, a bottom filter, a press and a lid. When you pour water into the cup, it will come out dripping, drop by drop. What do we do? We wait. We sit and watch the drips then we watch the forever crowded traffic of Vietnam filled with motorbikes flowing. Yes, that's our way of drinking coffee.
In Hanoi, you will see this filter in anywhere claimed to be a café – on the sidewalks, along the lakes, in the balcony of some lovely buildings. Hanoians seem to enjoy "iced black coffee with condensed milk" which in Vietnamese is "ca phe sua da" or "ca phe nau da". We also have 3 other main types: ice black (coffee + ice), hot black (coffee), hot brown (hot coffee + milk). Two interesting variations to look forward are the yoghurt coffee (sua chua ca phe) and egg coffee (ca phe trung). The amazing thing is just by hearing these names you can't get any idea how do they taste like. And I believe they are not like anything you have experienced. Yoghurt coffee is creamy and the yoghurt goes really with the strong black coffee while egg coffee tastes like egg custard with condensed milk and coffee. In general, Hanoi people prefer coffee to be strong, flavorful and condensed.
In Ho Chi Minh City, the coffee culture here is somewhat different. The coffee here is served in taller (or bigger?) glasses and slightly cheaper (because coffee is a daily drink). They use a lot of crushed ice and less coffee and the coffee taste is much sweeter than in the north. Southern people use draws to drink coffee which I haven't seen anywhere else in the north. If you order a coffee, they will bring you a big glass and you don't have to do anything else, not like in the north you will have a "phin". The ice black coffee with condensed milk has another name – "ca phe bac xiu". Many northerners have been confused when ordered "ca phe nau" (brown coffee) to receive a "ca phe den" (black coffee) instead.  There is a speciality of the north I must mention – "Ca Phe Vong" (Hammock Café) where you will sit in a hammock to enjoy your coffee.
Where to drink
Coffee is everywhere in Vietnam, from street pavement to luxurious café. Office workers love café with romantic and quite styles but the old people want some café in old streets or inside deep alleys. For young people, they prefer the busy and noisy atmosphere of modern and luxury or pavement café.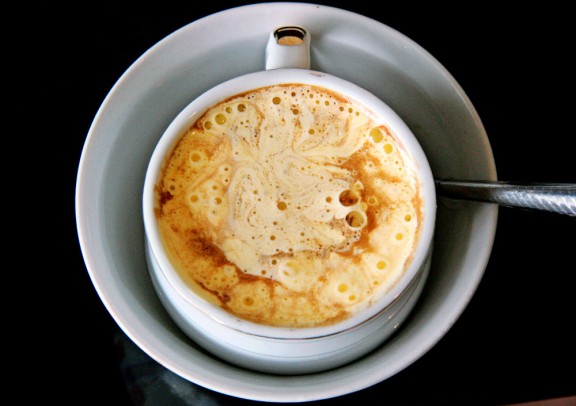 The list of good café in Hanoi is very long but the most outstanding is Giang Café (Hang Gai Street). This place is well-known to both locals and tourists for egg coffee. Although there are many coffee shops in Hanoi having egg coffee in their menu no places can compare to Giang café. Another must-visit café is Lam café in Hang Bac Street. This café is decorated beautifully with bamboo furniture and colourful framed oil paintings on the wall. Not surprised to know that most customers are artists.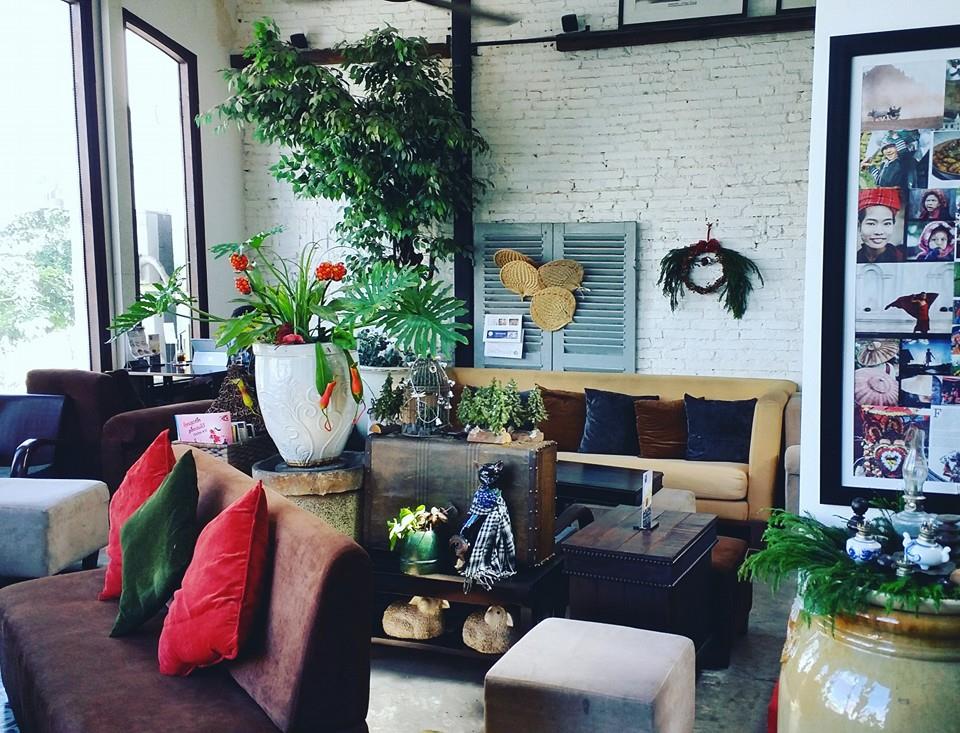 Ho Chi Minh doesn't have so many traditional cafés as Hanoi but its coffee is exceptional. The best cafes are mainly located in District 1 and 3, which offer the best collection of historic buildings. Unlike Hanoi, cafés in Ho Chi Minh are spacious, elegant and romantic in Western-style. If you visit Ho Chi Minh someday, don't forget to check out some of following places: La Rotonde (77B Ham Nghi Street), Yen Café (9 Pham Dinh Toai Street), Café Gac Hoa (92 Pham Ngoc Thach Street), The Fig(15 Nguyen Thi Huynh Street), Du Mien Café (48/9A Ho Bieu Chanh)
Source: Vietnam-Visa-Easy