Talk about a caffeine rush: Vietnam's coffee culture is heavily associated (and sometimes only associated) with the cà phê đá, or Vietnamese iced coffee Which is ironic given that Vietnam is second to Brazil in coffee productionand is primarily known for only one type of coffee.
Kim Dam is the owner of the newly opened Portland Cà Phê on Southeast Holgate, translating to "Portland Coffee" in Vietnamese. The MHCC graduate has expressed wanting to change the image of Vietnamese coffee for the public and those who are not accustomed to non-western coffee in America, in general. Portland Cà Phê had a soft opening on April 16-19 that was reserved for family and friends of the owner and employees at the coffee shop,. The initial consensus regarding the coffee was positive and the customers were plentiful, by pandemic standards.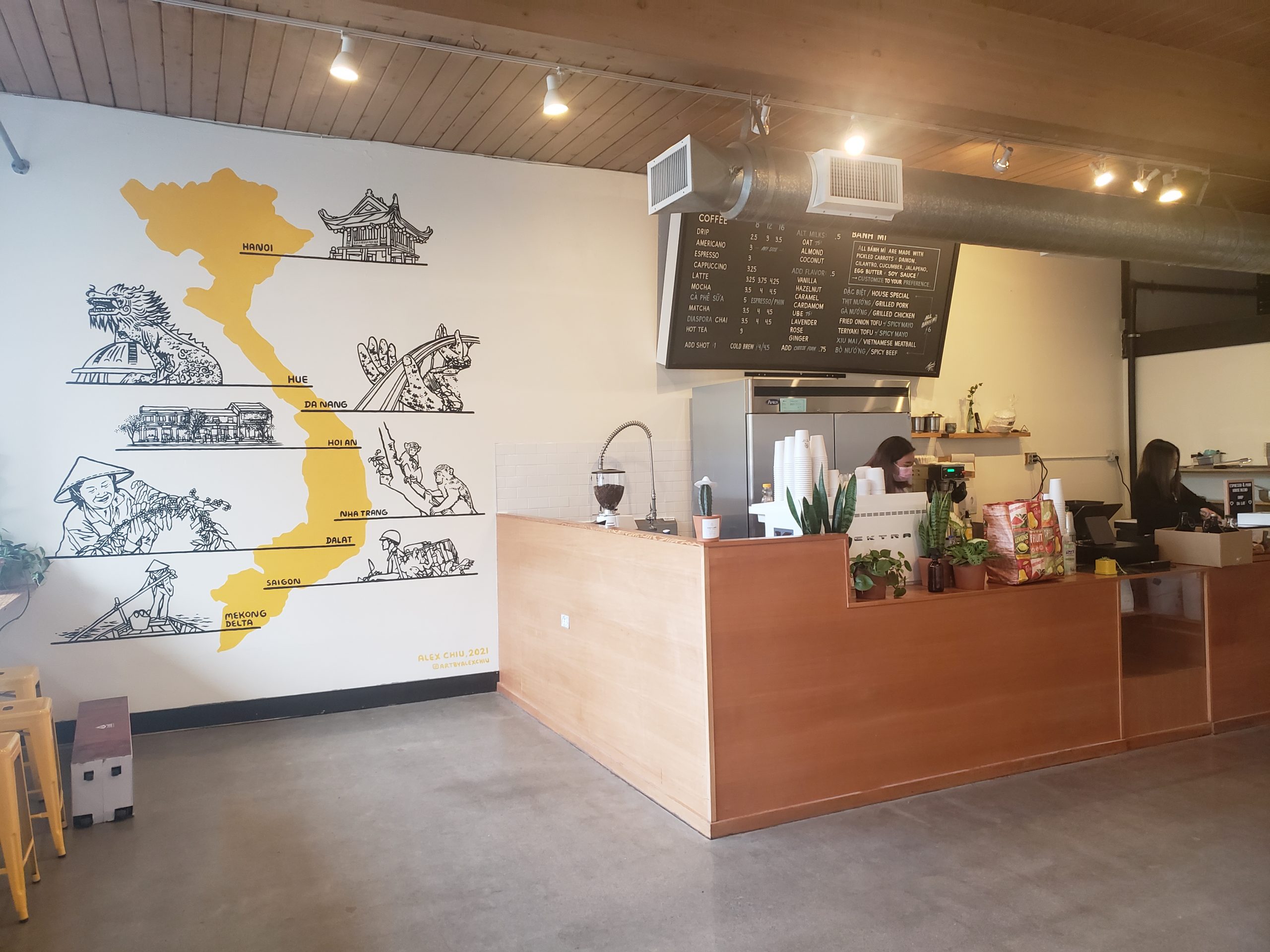 Encouraged by the positive reception, Dam had Portland Cà Phê's grand opening on April 23 where the crowd was even larger – quite literally out the door – and the reception even more ecstatic. In fact, the line was nonstop for at least two hours on opening day. Dam's parents moved to the U.S. in 1982. They have opened and operated the
Vietnamese sandwich shop, The House of Banh Mi. Dam worked for her family's banh mi while also pursuing her interest in coffee work, her experience including an apprenticeship with Mark Wilcox of Mutt's Coffee (who left a positive online review of the coffee shop). In addition to selling Vietnamese coffee, Portland Cà Phê also cites inspiration from many other Asian countries, such as featuring their popular ube, a Filipino purple yam. But its core is still centered on the Vietnamese palate. The source of its coffee beans is the Vietnam central highlands, and the coffee shop sells banh mi, for which the meat and spreads are prepared by Dam's mother at The House of Banh Mi, while the sandwich itself is finished at the shop. Inside Portland Cà Phê there is also a painting of Vietnam by Portland artist Alex Chiu that is immediately noticeable to the left of the entrance. It features many major locations in Vietnam's three regions, such as Hanoi in the North, Da Nang in the Central region and Ho Chi Minh City in the South.
Interestingly, the painting is also in a bright yellow, which may be an intriguing nod to an obscure Vietnamese figure known mostly in North Vietnam: Lady Triệu or Bà Triệu. Lady Triệu was the Vietnamese equivalent to the Chinese figure of Mulan or France's Joan of Arc, in that she was considered a heroine, who fought to their country from the rule of Emperor Sun Quan of the Eastern Wu Dynasty. She is commonly depicted in Vietnamese art wearing a golden yellow robe. Regardless of the possible coincidence, Dam's larger goal, per her website, is to promote the image and prestige of Vietnamese coffee. Portland Cà Phê has had high foot traffic following its opening and her goal appears to be progressing.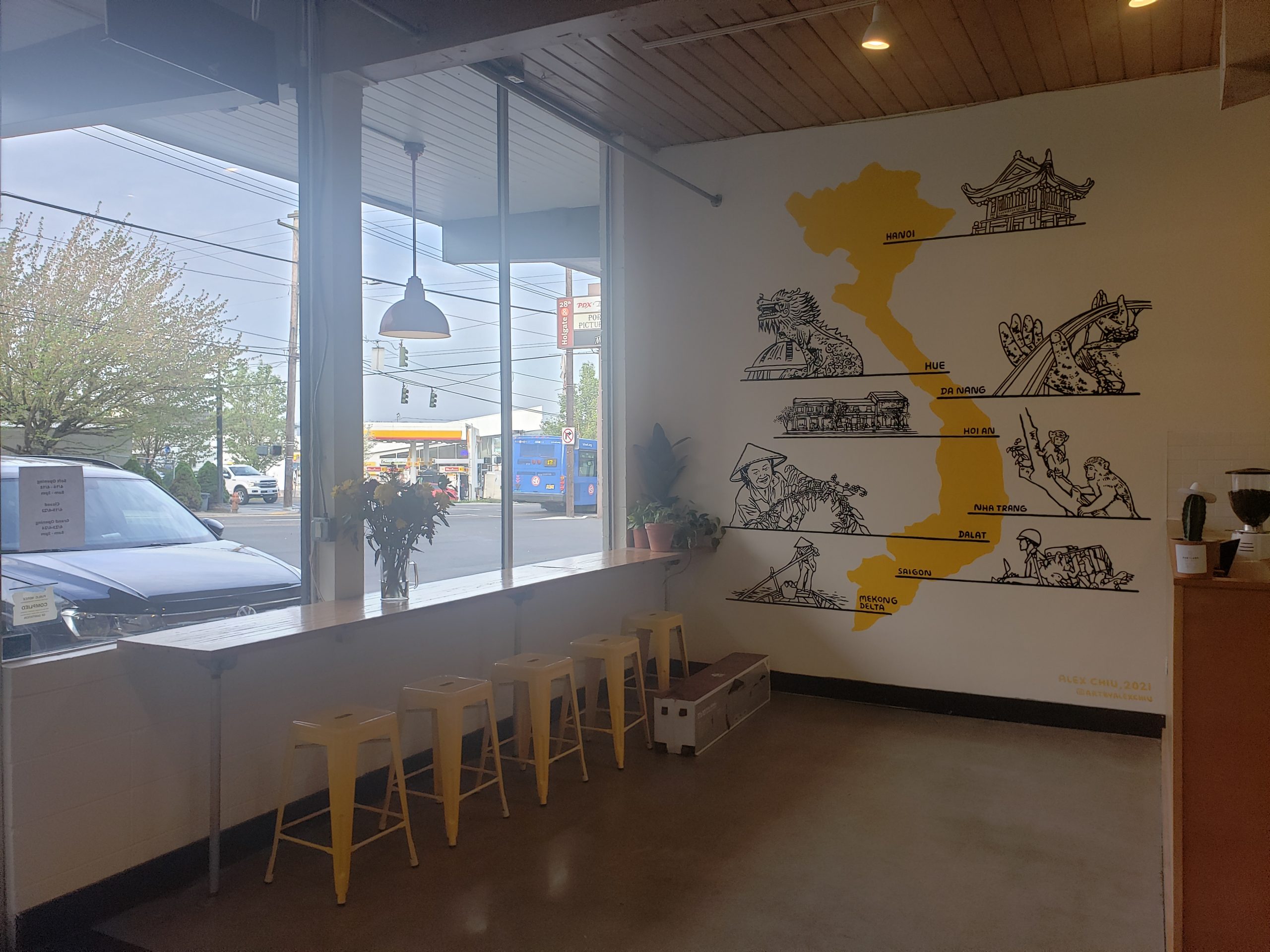 Portland Cà Phê is open daily 8 a.m. to 3 p.m. at 2815 SE Holgate Blvd. in Southeast Portland's Creston-Kenilworth neighborhood.
Source: Advocate Online