The UK-based international magazine Global Brands Magazine (GBM) awarded "World's Fastest Growing Coffee Brand" to TNI King Coffee in 2020. This award is a remarkable recognition of the world-wide business community for TNI King Coffee's growth.
Rapid growth globally from a local brand
Trung Nguyen International initially launched the King Coffee in the United States in October 2016. Later, it is widely accepted in over 60 other countries and territories including Russia, Middle East, Europe, Korea, China, Singapore, Australia, and India.
The Digital Revolution 4.0 ignites the digitalization transformation from King Coffee. King Coffee approached Chinese market in 2017 and quickly become one of the top-seller products on T-Mall (an Alibaba E-Commerce website). Since 2018, King Coffee rapidly expands its digital & online footprint by opening and retailing on over 35 e-commerce channels worldwide in USA, Russia, Korea, Singapore and others, launching flagship online stores such as Walmart USA, Amazon, Lazada, Shopee, Lotte and others as of 2020.
TNI King Coffee specifically picks beans from the best origins like Ethiopia, Brazil, Colombia, Guatemala, then grows them in Buon Me Thuot and CauDat regions in Vietnam. Thereafter processing it into various coffee products including instant coffee range with the highest quality. This makes their product really stand out from others.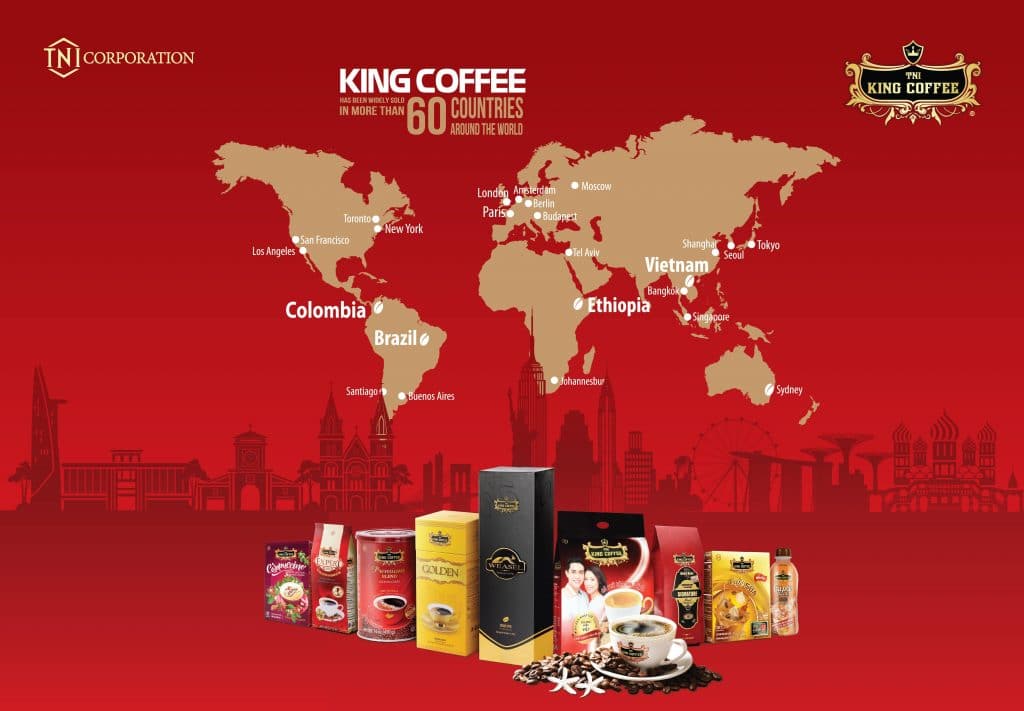 To quickly introduce their top-quality products to the whole world, TNI King Coffee have presented themselves strategically at Trade Expos around the world within 2017 – 2020 positively. Starting at World Food Expo and ProdExpo in Russia, they appeared at ThaiFex in Thailand, Summer Fancy Food in New York, GulFood in Dubai (UAE), Food & Hotel Asia in Singapore, SIAL Expo at Shanghai (China) and others at India, Middle East, Europe.
King Coffee certainly did not forget the retailing & café-chain market that are attracted by their coffee tastes. They quickly expand their café-chain business by investing directly and franchising coffee shops. King Coffee coffee-shop sprung up rapidly in Vietnam with over 50 premium stores in 2 years. Their first overseas coffee shop in Seoul, Korea in 2019 proves their expansion strategy is on the right track. They are looking forward to welcoming their 2ndoverseas shop at Anaheim, California, and many more in the United States.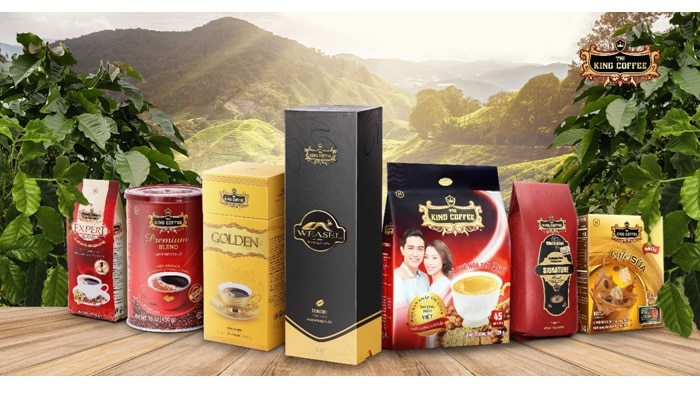 Home-coming wins
On April 2017, TNI King Coffee inaugurated their manufactory in Binh Duong province, Vietnam to conquer their home market. 3 months later, King Coffee has started distributing its products on its origin's country. King Coffee doubled its revenue in 2016 – 2017 and earned 50 – 60 billion VND EBITDA (Profit earnings before interest, taxes, depreciation and amortization). After steady growth in 2018, TNI increased its revenue significantly at the rate of 38%, reached 1,478 billion VND. CEO Le Hoang Diep Thao proudly earned 20 billion VND EBITDA compared to 41 billion VND loss the year before.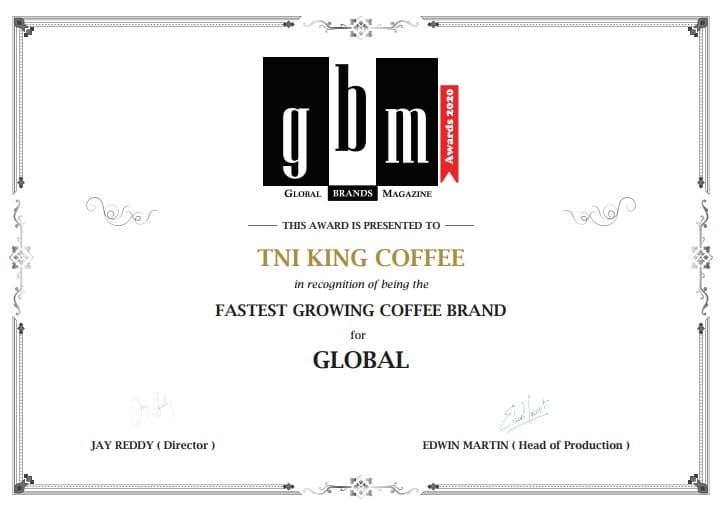 TNI King Coffee is the only coffee brand in Vietnam received GBM award this year. Business expansion to several markets, brand coverage, digitally approach to E-Commerce platforms are the key factors to their achievement at this uncertainty time of the F&B industry.
Madam Le Hoang Diep Thao, CEO of TNI King Coffee shares "It is an honour for TNI King Coffee to receive such recognition from GBM. It proves Vietnam coffee brand is on its way to claiming their top position by improving quality, diversifying product categories and implementing technology as well as continuously offer the best service to our customers."
In 2019, TNI King Coffee reach a record of 1,500 billion VND in revenue. 1,000 shops will also be opened across Vietnam to introduce a more elegant taste to Vietnamese coffee users. Other than that, "Women Can Do" pilot program in cooperated with the Vietnam Woman Association will help millions of Vietnamese women in earning for their livings and make King Coffee brand closer to Vietnamese. King Coffee of course will approach the international market through franchising strategy.
Global Brand Magazine (GBM) is a prestigious magazine in London, UK. Their key focus is bringing in ideas, discussion, articles and research from experts at different industries about branding all over the world. Every year, GBM launch their award to honor brands that stand out from others at many countries. The board of trustees include GBM Editors, media and brand experts. They discuss internally before interview nominees' Board of Directors to make their final judgement. Winning their awards is very limited nowadays.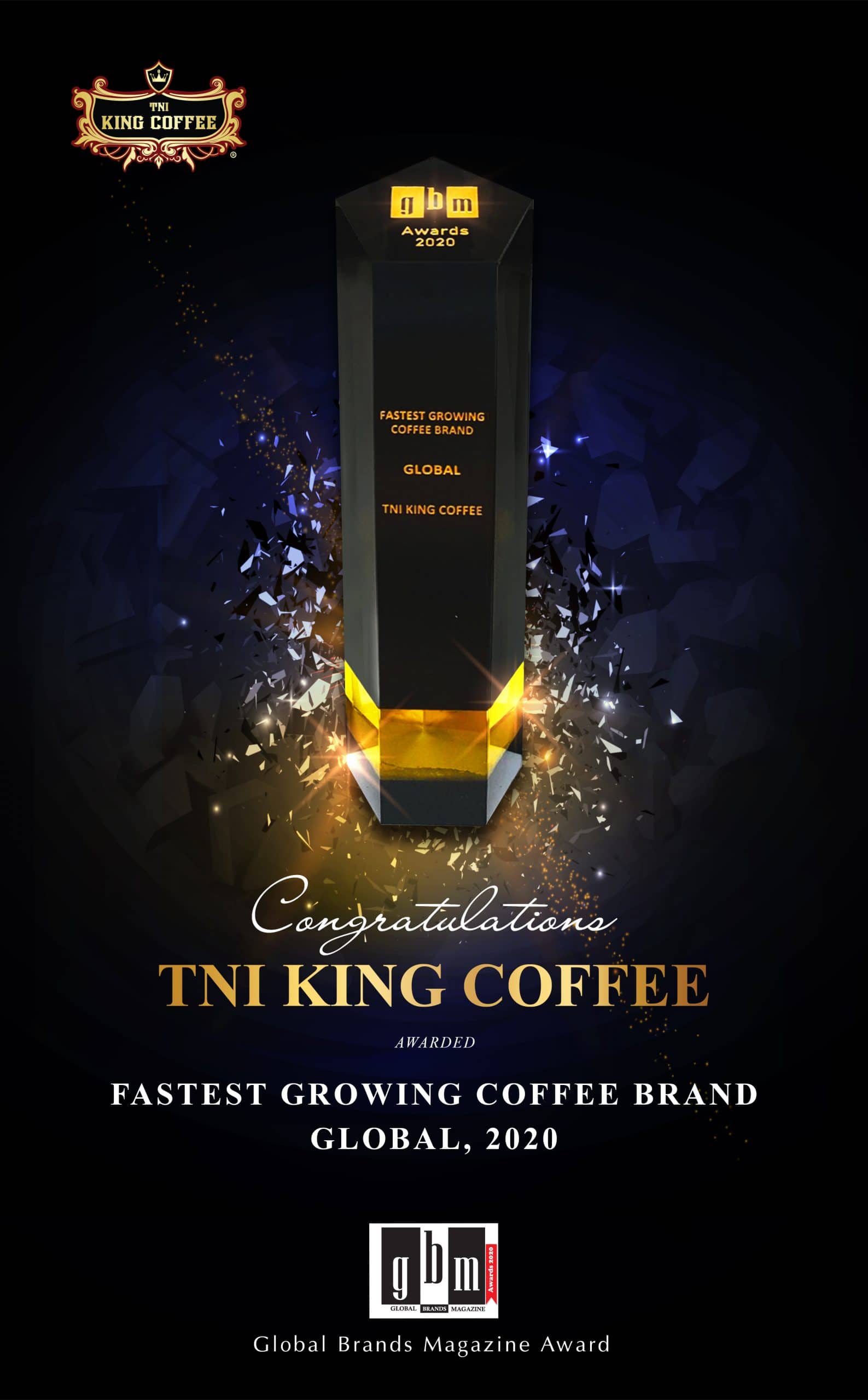 Source: Global Brands Magazine